Today, Ver. 2.4.0 of the Fire Emblem Heroes game was released.
Here's what's been updated:
Thank you for playing the Fire Emblem Heroes games. This is from the Fire Emblem Heroes development team.
Here are the new features and changes for Ver. 2.3.0:

■ New Event: Grand Conquests
In Grand Conquests, players will be separated into one of three armies headed by Anna, Sharena, and Alfonse and then battle each other to conquer territory across the continent.
Battles are fought on the same large-size maps as the Rival Domains mode. Over the course of two days, three armies compete for territory in a series of battles lasting two hours each. When all is said and done, the army that has conquered the most territory is the winner.
There aren't rewards just for the army that wins, however. There are also Tier Rewards earned as you keep fighting battles and Quest Rewards earned by participating.
Even if you don't enter the fray yourself, by tapping Help Out! you can also contribute to your army and earn rewards. You can participate even if you're too busy to play!
The first round of Grand Conquests will begin on April 13, 2018 at 11:00 AM UTC. Please look forward to it!
Each battlefield can accommodate 200 troops per army, meaning a total of 600 people can participate in each battlefield. (There may be instances where the number of people varies.)
So that all players can participate, a number of battlefields will be created. Grand Conquests participants will automatically be assigned to a battlefield.

■ Friend List Improvements
Along with Grand Conquests, new functions have been added to the Friend List:
The maximum number of friends has increased from 50 to

100

.
On the friend search screen, friend recommendations will be displayed.
On the friend screen, you will be able to see the leader you have set as well as the number of times other players have used them.
On the friend screen and the Delete Friend screen, you can see the number of friends you have.

■ Seven Grand Heroes Added to Rotation
Starting on April 11, 2018 at 7:00 AM UTC, another seven Grand Heroes have been added to the daily Grand Hero Battle Revival rotation.
Along with these battles, GHB Elite 2 quests will also commence. These quests will be available for a full year.
For more details, check out the in-game notification that will be sent out on April 11, 2018 at 7:00 AM UTC.

■ Stamina Zero!
So that you can challenge difficult maps as many times as you want, starting on April 10, 7:00 AM UTC, you will no longer need to use any stamina to play Grand Hero Battles, Bound Hero Battles, and Legendary Hero Battles.

■ New Weapon Skills and Weapons to Refine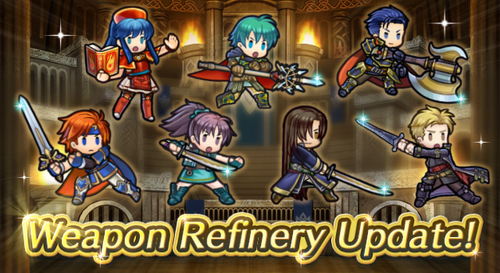 The following Heroes will be able to learn these new character-specific weapon skill at 5
.
Heroes who can learn this skill:
Fir: Sword Student, Karel: Sword Demon
Heroes who can learn this skill:

Note: Weapon skills can be learned by selecting Learn Skills in the Allies menu.

The following weapon skills can now be strengthened with Arena Medals

and Divine Dew

for added special effects:
Heroes who can learn this skill:
Heroes who can learn this skill:
Heroes who can learn this skill:
Fir: Sword Student, Karel: Sword Demon
Heroes who can learn this skill:
Heroes who can learn this skill:
Heroes who can learn this skill:

Notes:
To access the Weapon Refinery, after clearing Book I, Chapter 13 in the main story, you must clear the second Intermission map, The Rite of Blades.

■ Tempest Trials, Refreshed
Tempest Trials has been reborn as Tempest Trials+ and has changed in the following ways:
The event will last

10 days

and the rewards earned by score will cap out at

50,000 points

(as in Tempest Trials Mini).
A "Try this!" function will suggest the best difficulty selection for your current team.
During the first two battles of the day, all allies will receive the stat boost that is usually reserved for bonus allies.
All bonus allies will gain a

40% boost

.
The required stamina to play will decrease to the range of

10 to 15

.
The number of teams required to play at some difficulties has been adjusted. (In the past, more teams were sometimes required than were actually necessary.)
The next Tempest Trials+ event begins on April 21, 2018 at 7:00 AM UTC, so look forward to it.

■ Special Orb Promo
Starting on April 12, 2018 at 7:00 AM UTC and available for two weeks, you will be able to purchase the Special Orb Promo: April Edition. Along with 21 Orbs
, 6,000 Hero Feathers

will be included as a bonus.
From April on, a similar promo will be available for purchase every month.

■ New Home Screen Banner
A notification banner has been added to the Home menu. It will notify you of new events and special information.
If you tap it, you will jump directly to the event, so give it a try.

■ Other Changes
Skill description text was revised to be easier to understand and more consistent, affecting over 650 skills in English.
The upper limit of Hero Merit has been changed from 4,000 to

5,000

.
More Sacred Seals have been added for creation and enhancement.
Groundwork for the weapon types of red bow, blue bow, and green bow (which are planned for future release) has begun.
When the new season for the Arena begins, a notification will now be sent to your device. (Notifications must be set to ON on your device.)
In Settings, an option that allows you to turn difficulty recommendations for Tempest Trials on or off has been added.
That wraps up our overview of new features and changes for Ver. 2.4.0. We hope you continue to enjoy playing
Fire Emblem Heroes
.
Posted:
---