Get ready to dive into a new world of content with the Fire Emblem Heroes game, update version 2.0.0!
Also, with a Log-In Bonus to celebrate the release of ver. 2.0.0, you can receive Orbs
up to 10 times between November 28, 2017 at 7:00 AM UTC and December 13, 2017 at 6:59 AM UTC!
That's not all. A double EXP and SP event will also take place from November 28, 2017 at 7:00 AM UTC to December 13, 2017 at 6:59 AM UTC!
We hope you continue to enjoy Fire Emblem Heroes.
Thank you for playing Fire Emblem Heroes. Here's an update from the Fire Emblem Heroes development team about the new additions for ver. 2.0.0:

■ Book II of the Story Has Begun
Cloaked in flame, he crosses the sea—unquenchable, insatiable, undying flame.
Trees fall, mountains burn, steam billows. The seas are swallowed.
Stars become cinders, and the moon falls from the sky.
The saga of the Fire Emblem Heroes game proceeds to the next chapter...
Book II of Fire Emblem Heroes has arrived!
Get Fjorm: Princess of Ice by clearing Chapter 1: Part 5 of Book II.
Chapters will continue to be added, so work together with the other members of the Order of Heroes and proceed through the tale!
Those who have not yet completed Book I can still access Book II, so we suggest that any players who haven't cleared Book I yet obtain Fjorm right away and then proceed with the story of Book I.

■ Legendary Heroes and Blessings Have Been Added
Legendary Heroes—Heroes with new abilities—have been added. The first Legendary Hero is Fjorm: Princess of Ice, who can be obtained in the main story.
Legendary Heroes have one of four legendary elements, including Water, Wind, Earth, and Fire, that resonate with the corresponding Blessing to give Heroes strength.

Legendary Hero Abilities
When you make a Legendary Hero into an ally, you will also obtain a Blessing item that corresponds with the Legendary Hero's element—one of four possibilities.
Here's a list of the benefits given to a Hero with this item:
SP earned in battle will be doubled.
In the corresponding season, if the Hero is deployed along with the Legendary Hero, they will receive stat bonuses.
Example: During the Water season, a Hero with a Water blessing deployed with Fjorm: Princess of Ice will get HP+3 and Spd+3.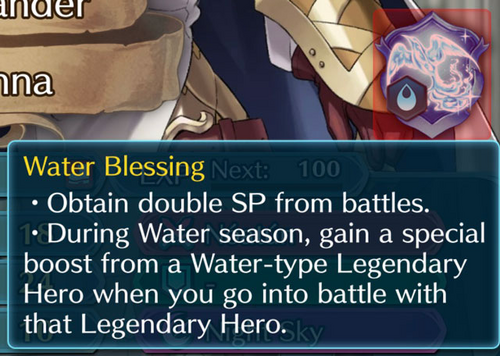 Each season will feature two of the four elements: Water, Wind, Earth, and Fire. Seasons will change at the same time as Arena seasons.
| Time | Season |
| --- | --- |
| November 28, 2017 at 7:00 AM UTC | |
| December 05, 2017 at 7:00 AM UTC | |
| December 12, 2017 at 7:00 AM UTC | |
| December 19, 2017 at 7:00 AM UTC | |
| December 26, 2017 at 7:00 AM UTC | |
The current season is displayed on the upper-left corner of the menu.

Important Information about Blessings
Once a Blessing item is used on an ally, it cannot be removed from that ally.
A blessing can be changed for another, but the first blessing will be lost when the second is set.
There won't be many chances to get Blessing items, so think hard about who to give them to.
Fjorm: Princess of Ice will be available from November 27, 2017 at 7:00 AM UTC and will also be part of a Legendary Hero summoning event.

■ Level Up Your Skills with the Weapon Refinery
Strengthen the weapon skills of your Heroes!
After clearing Chapter 13, Diabolical Bloodline, in the main story and then clearing the Intermission chapter The Rite of Blades, Weapon Refinery can be found under Advanced Growth.
As shown above, existing weapon skills can now be refined into high-level weapon skills.
Also, some weapons can be strengthened with special effects, such as increasing a Hero's stats or other abilities.
List of weapons that can be strengthened
Since the latest Feh Channel,
 Rauðrowl+,
 Blárowl+, and
 Gronnowl+ have been added as weapons that can be strengthened.
Refining weapons requires Arena Medal

, Refining Stone

, or Divine Dew

.
You will be able to get Arena Medals

and Refining Stones

from events, quests, and the Arena, so play a lot of different modes and do quests and events if you want to strengthen your favorite Hero.

Important Information about the Weapon Refinery
Divine Dew can be obtained by refining weapons.
Arena Medals can be obtained by winning in the Arena. The number of medals will be based on score.
If there are multiple ways to strengthen a weapon, you will be able to change the skill in Equip Skills.
■ High-Level Skills for Staves
Some staff skills and healing skills now have high-level skills added that you can learn at 5
.
Heroes who obtain the base skills naturally can use SP to learn the high-level skills. Heroes who obtain the skills through Inherit Skill will not be able to learn the high-level skills.

■ Cooldown Lowered on Some Special Skills
To make a broader range of Special skills more useful to players, some Special cooldowns have been lowered by 1.
List of Special skills affected

■ Barracks Get Bigger
All users will have their Barracks expanded by 100. Even those who have maxed their Barracks at 1,000 will now have room for 1,100. The max will now be 1,100.

■ Arena Scores Have Been Adjusted
Arena scores for Beginner and Intermediate levels have been adjusted to match Arena Assault. As well as making high-level rewards easier to earn, Arena Medals for use in the Weapon Refinery are also easier to obtain at Beginner and Intermediate difficulties.

■ Arena Assault Rankings Have Been Adjusted
The number of players who receive high-level rewards has increased.
Starting from the season beginning November 28, 2017 at 7:00 AM UTC, the following changes will be made:
| Before Change | After Change | Rank Reward |
| --- | --- | --- |
| 1 to 100 | 1 to 1,000 | 30 Sacred Coins , 30 Refining Stones , 5,000 Hero Feathers |
| 101 to 1,000 | 1,001 to 3,000 | 25 Sacred Coins , 25 Refining Stones , 4,000 Hero Feathers |
| 1,001 to 5,000 | 3,001 to 5,000 | 22 Sacred Coins , 22 Refining Stones , 3,000 Hero Feathers |

■ Rewards for My Nintendo Have Been Added
Hero Feathers

have been added to My Nintendo rewards. Redeem 100 My Nintendo Platinum Points for 2,000 Hero Feathers, up to five times. (Note: You must be a My Nintendo member to redeem points and obtain these rewards.)

■ Various Other Improvements
Stamina required for Story Maps has decreased. No maps will require more than 10 stamina.
On screens with status details, the areas with weapons, support skills, and Special skills will each be displayed in different colors.
It will be easier to tell which summoning events can be accessed without using Orbs for the first summon.
An effect has been added to combat animations when 0 damage is taken.
The menus for Training Tower, Arena, and Voting Gauntlet modes have new background imagery.
Some skill descriptions have been updated to better reflect their functions in-game.
Traditional Chinese has been added to Select Language.

■ Known issues
For some devices running iOS, the detailed explanations that appear when you tap on a Hero's name or a skill icon currently do not display properly. If this occurs, please check for explanations on the Hero's detailed profile page instead. We're working on this, and appreciate your patience until it's resolved.
That's all for the ver. 2.0.0 update! We appreciate your continued support of
Fire Emblem Heroes
.
Posted:
---