Thank you for playing Fire Emblem Heroes.
To celebrate the ver. 1.8.0 update, from October 9, 2017 at 7:00 AM UTC to October 23, 2017 at 6:59 AM UTC you can get Orbs
up to 10 times from a Log-In Bonus. These Orbs
can be obtained from your Present List.
Here's an update from the Fire Emblem Heroes development team about the new additions for ver. 1.8.0:

■ The Sacred Seal Forge Opens Up
A new option, Sacred Seal Forge, has been added to the game. Using it, you will be able to both create new Sacred Seals and enhance existing Sacred Seals.
You can access these functions after clearing the Intermission map, Awakening Ancient Power, which appears after Clearing Chapter 13, Diabolical Bloodline, in the Main Story mode.
Sacred Coins

, Badges, and Great Badges are what you use to power the Sacred Seal Forge.
Beginning with version 1.8.0, Sacred Coins

can also be earned through quests, Tempest Trials, and other places besides Arena Assault mode, where they have been available up till now. Badges and Great Badges can still be earned in Training Tower, but starting from version 1.8.0, you'll earn even more of them.
Use Sacred Seals and enhance your army's strength on the battlefield!
The Sacred Seal Forge can be accessed from a new Sacred Coin icon on the Home menu, or by going to Advanced Growth in the Allies menu.
Sacred Seals that can be created and enhanced will continue to be added to the game.
You cannot own more than one of each Sacred Seal.

Note: Playing requires Stamina.

■ It's Easier to Change Teams
Before going into battle, you can now quickly move from the confirmation screen to the Edit Team screen.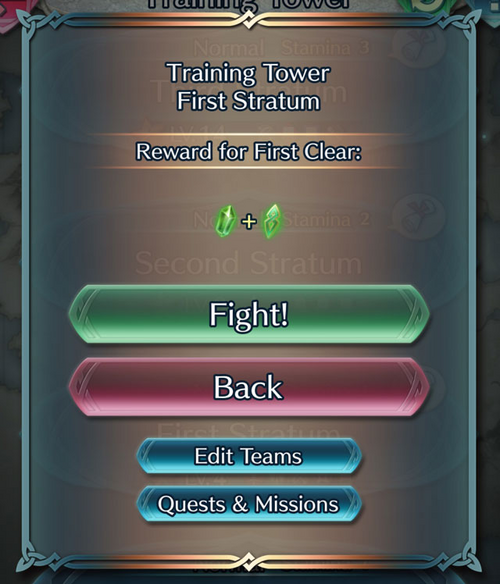 After you decide on your team, tap the back arrow to return to the confirmation screen.

■ Quick Questing
Three new functions have been added to make quests easier to access.
1. You can now move to the appropriate map directly from the quest list.
2. Symbols have been added to mark maps that have quests to complete.
(Quests available across multiple difficulties will only be marked at the easiest difficulty.)
3. Quest information can now be checked before deployment.
Now that quests are easier to access, try and earn even more rewards!

■ Easy Auto-Battle
An Auto-Battle button has been place on the menu at the bottom of the battle screen.
Activate it by accessing the Settings screen and setting your preferred option for Auto-Battle Button.
If the Auto-Battle Button is switched on, the weapon triangle will no longer be displayed while playing Arena Assault.

■ Various Other Improvements
On a character's profile screen when the new Support Rank icon is tapped, you can see which ally is their current support partner and read a description of the support's effects.
In the Voting Gauntlet menu, the members of your team outside the leftmost place will be darkened, making it easier to identify which character is the team's leader.
After using Accept All in the Quests & Missions list or Present List, you will see a list of all items being accepted.
Other small bug fixes.

That's all for the version 1.8.0 update.
We hope you continue to enjoy
Fire Emblem Heroes
!
Posted:
---