What's in Store for the 1.5.0 Update (Notification)

Thank you for playing Fire Emblem Heroes.
To celebrate the ver. 1.5.0 update, from July 6, 2017 at 7:00 AM UTC to July 20, 2017 at 6:59 AM UTC, 2 Orbs
will be distributed every day! Make sure to visit the Home screen so you can get them before they're gone.
Here's an update from the Fire Emblem Heroes development team about the new additions for ver. 1.5.0.

Chain Challenge and Squad Assault
Chain Challenge and Squad Assault will be added to Story Maps. Both modes challenge you to play a series of maps.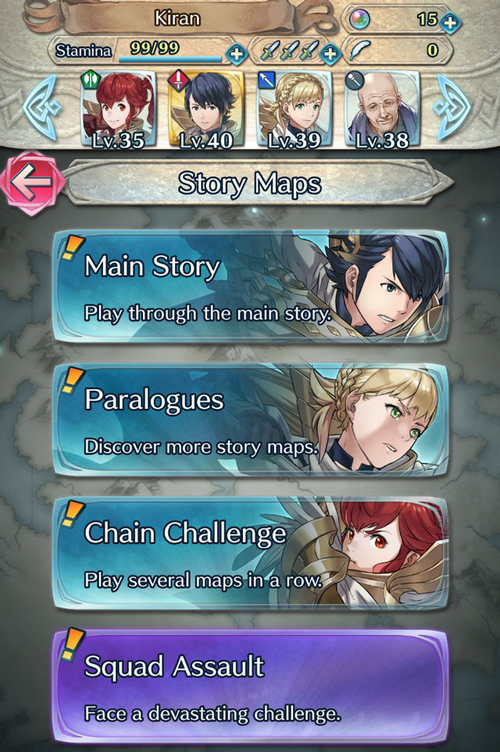 Clear Chain Challenge on Normal and Hard to earn Hero Feathers

, and clear on Lunatic to earn Orbs
.
Squad Assault is a very difficult mode where Heroes will be captured by the enemy after completing a map. Once captured, they cannot be deployed again until the challenge ends. Clear this mode to earn Sacred Seals and Orbs
!
We plan to expand both Chain Challenge and Squad Assault as new story maps are added.

EXP Adjustments
1. EXP earned from defeating enemies with a gap in level compared to your Heroes will be increased.
The EXP limit for defeating weaker enemies is less severe, while the EXP bonus for defeating stronger enemies has increased.
2. EXP for healing with a staff will increase.
3. For 5
Heroes, expect more EXP for defeating higher-level enemies than before.

Improvements to Tempest Trials
1. When retrying a stage, injured enemies' HP will not regenerate while defeated enemies will stay defeated.
If an enemy's HP is high, just as in ver. 1.4.0, their HP will decrease for the next challenge. (When determining whether to retain a wounded enemy's HP value or decrease their HP, the game will use whichever value is lower.)
2. Scores for Normal and Hard have been adjusted.
The new base scores are shown below:
| Difficulty | Base Score |
| --- | --- |
| Lunatic | 40 points (no change) |
| Hard | 35 points |
| Normal | 30 points |

New Hero Sorting Options
More functionality to sort your allies has been added. Now, up to three sort conditions can be used simultaneously to sort your Heroes.

Info Added to Summoning Screen
The time remaining for a summoning event will now be displayed on the summoning screen. Also, a link to More Info has been added, so you have quick access to the details of each Summoning Focus.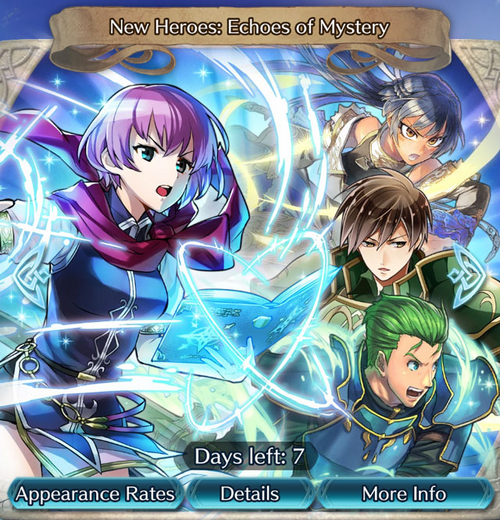 Purchases Made Easier
A Complete Purchase button has been added to the Purchase Orbs screen to complete purchases that are interrupted by connection errors.
Also, if a purchase fails during a summon, you can use Complete Purchase and will no longer need to relaunch the app.

Barracks Get Bigger
The upper limit for the barracks has increased from 500 to 1,000 allies. (Orbs
are required to expand the barracks.)

More Improvements
In Settings, you can now set Show Danger Area to On if you would like it automatically activated at the beginning of a map.
When there are special conditions for a battle, the winning conditions will now be displayed in the battle's system menu.
In the Arena when checking rewards, Tier rewards will display first.
On the friend-deletion screen, the time of your friend's last log-in will now be displayed.
On the rewards screen, information about Sacred Seals will display when tapped.
On Android devices, the app will use less battery in sleep mode.
On iOS devices, issues with sound have been fixed.

That is everything that has been added for ver. 1.5.0.
We hope you continue to enjoy
Fire Emblem Heroes
!
Posted:
---