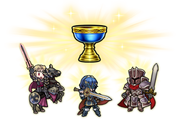 "
Heroic Grails are quite the mysterious things. You can use them to recruit Heroes from past Tempest Trials and Grand Hero Battles!
"
― Feh, Feh Channel
In the Use Heroic Grails menu,

 Heroic Grail items can be used to summon specific Heroes to the barracks.
Usage
[
]
100 Heroic Grails are initially needed to summon a Hero. Afterwards, the cost for summoning increases by 50 until it reaches 500, after which it remains at 500 for the rest of the available summons. Every Hero can be summoned up to a maximum of 20 times each.
200 Heroic Grails can be obtained from First Visit Bonus: Heroic Grails, by entering the Use Heroic Grails menu for the first time.
Cost of summoning
[
]
| Next | Heroic Grails | Cumulative Heroic Grails |
| --- | --- | --- |
| 1 | 100 | 100 |
| 2 | 150 | 250 |
| 3 | 200 | 450 |
| 4 | 250 | 700 |
| 5 | 300 | 1000 |
| 6 | 350 | 1350 |
| 7 | 400 | 1750 |
| 8 | 450 | 2200 |
| 9 | 500 | 2700 |
| 10 | 500 | 3200 |
| 11 | 500 | 3700 |
| 12 | 500 | 4200 |
| 13 | 500 | 4700 |
| 14 | 500 | 5200 |
| 15 | 500 | 5700 |
| 16 | 500 | 6200 |
| 17 | 500 | 6700 |
| 18 | 500 | 7200 |
| 19 | 500 | 7700 |
| 20 | 500 | 8200 |
List of available Heroes
[
]
See also
[
]
In other languages
[
]
| Language | Name |
| --- | --- |
| Japanese | 聖杯で英雄を召喚 |
| German | Heldenkelche benutzen |
| Spanish (Europe) | Usar griales heroicos |
| Spanish (Latin America) | Usar griales heroicos |
| French | Utiliser des graals |
| Italian | Usa calici eroici |
| Traditional Chinese (Taiwan) | 以聖杯召喚英雄 |
| Portuguese | Usar graais heroicos |