Sacred Coin
See Also: A chart which shows the total distribution of Sacred Coins.
Sacred Coin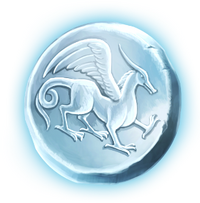 Description
A valuable ceremonial coin for the Sacred Seal Forge used in antiquity.
Sacred Coins can be earned as a reward in Arena, Arena Assault, Tempest Trials, gaining tiers in Grand Conquests, competing in Voting Gauntlet rounds, or as a reward for certain quests.
Sacred Coins are used to create/enhance Sacred Seals in the Sacred Seal Forge.
| Language | Name |
| --- | --- |
| Japanese | 聖貨 |
| German | Heilige Münzen |
| Spanish (Europe) | Monedas Sacras |
| Spanish (Latin America) | Sellos Sacros |
| French | Pièces sacrées |
| Italian | Sacri Oboli |
| Traditional Chinese (Taiwan) | 聖幣 |
| Portuguese | Moeda Sagrada |