See Also: A chart which shows the total distribution of Refining Stones.
Refining Stone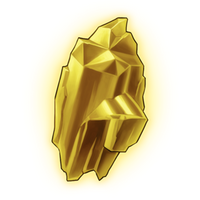 Description
Used in the Weapon Refinery to refine normal weapons.
Availability
[
]
Refining Stones can be obtained from the Arena, Quests, and as event rewards.
Usage
[
]
Refining Stones are used to enhance or evolve Weapons in the Weapon Refinery.
In other languages
[
]
| Language | Name |
| --- | --- |
| Japanese | 錬成石 |
| German | Veredelungsstein |
| Spanish (Europe) | Piedra de refinado |
| Spanish (Latin America) | Piedra de refinado |
| French | Pierre d'amélioration |
| Italian | Pietra levigante |
| Traditional Chinese (Taiwan) | 鍊成石 |
| Portuguese | Pedra de refino |