"
Watch over your Heroes as they strengthen their bonds with one another throughout the course of their journey.
"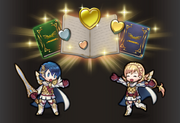 Heroes Journey is a special event introduced in Version 5.8.0. It was first presented in Feh Channel (Aug. 2, 2021).
In this mode, two heroes are choose to fight and spend time together.
Basics
[
]
Battles
[
]
There are two kind of battles, separated on four difficulties.
The first two battles, on Beginner and Intermediate difficulty, take place on a random Story map with three random enemy heroes. On Normal difficulties, 3
foes at the level of your strongest hero minus 5 await you. On Hard difficulty, they are 4
, with a difference of 2 level. Clearing these battles will grant

Memento Point, based on the following formula:
Where
is a random multiplier dependent on the enemies drop as describe below:
1 drop: 1.0 / 1.1 / 1.2 / 1.4
2 drops: 2.0 / 2.2 / 2.4
3 drops: 3.0 / 3.3 / 3.5
The Boss Battle and Final Battle are unlocked after reaching respectively a

Rapport of 6 and 20. They feature a random Heroic Ordeals from Book 2 or Book 3 and above, depending on the difficulty. These battle do not reward

Memento Points, instead their first clear grant unique rewards, such as
 Divine Code: Ephemera 5 and an accessory.
Memento Events
[
]
Once acquiring at least

 100 Memento Points, a duo of heroes can take part of a Memento Event. Each event offer 5 different Memento Event, with three possible outputs. Based on the result of the Memento Event, the active duo will earn an equivalent amount of

Rapport.
Starting from Version 5.10.0, assisting to an already viewed Memento Event grants
Memory Fragments. The amount of granted
Memory Fragments is equivalent to the result of the event. It is possible to assist to an unviewed Memento Event of your choice for
 20 Memory Fragments, up to three times per Heroes Journey event.

Memento Points are capped to 9,999, while

Rapport are capped to 99 for a given pair. Changing one or both member of the team will reset the Rapport counter to 0, event if the same pair is rebuild after. Changing for another version of the same hero will also reset the counter, however simply changing the order of the currently selected heroes won't.
World Mirror
[
]
Starting with Version 6.1.0, a new functionality has been added to Heroes Journey events, the World Mirror. This new functionality allows summoners to watch after the Heroes that have been dispatched as they spend times during their travel. Every 10 minutes, a new activity is begin by the two Heroes, reflecting the current time: it is possible to see them cooking during lunch, or resting at night.
Sometimes, instead of an idle event, the Heroes will be facing a situation with several possibilities. In such cases, the player can help them chose one possibility. If the output is a positive one, the Heroes will thank the player with a
Memory Fragments.
The event played depends of three factors: the time interval, the activity and the location. There is a total of 8 time intervals, 13 possible activities and 12 different locations. However, some activities are only available during some time intervals. Moreover, some locations also have different designs depending on the time intervals. The description of the event is the combination of the three descriptors related to the time, the location and the event, in that order.
| Time of day | Corresponding hours | Descriptor |
| --- | --- | --- |
| Breakfast | 06:00:00 — 07:59:59 | As the morning sun rises |
| Morning | 08:00:00 — 10:59:59 | As the sun's light floods the sky |
| Lunch | 11:00:00 — 12:59:59 | As the sun blazes in the sky |
| Early afternoon | 13:00:00 — 15:59:59 | As sunlight shines bright |
| Late afternoon | 16:00:00 — 18:59:59 | As the skies turn a brilliant red |
| Dinner | 19:00:00 — 20:59:59 | As the sun disappears from view |
| Evening | 21:00:00 — 22:59:59 | As a deep sense of solitude settles |
| Night | 23:00:00 — 05:59:59 | As everything grows still and quiet |
Some locations do not allow for different designs, e.g. the Caves. These locations use unique time descriptor, which are also describe on the following table.
Location
Designs
Descriptor

Daytime

Late afternoon

Night

Wastes
in the desolate wasteland
Woods
in the heart of a dense forest
Wilds
in the vast, untamed wilderness
Sands
over the far-stretched sands
Ruins
over the crumbling ruins
Shore
over the path along the shore
Snow
in the frost, ice, and snow
Volcano
at the foot of the volcano

Breakfast: As smoke darkens the sunlight
Morning: As the hot ground cracks underfoot
Lunch: As smoke and ash obscure the sun
Early afternoon: As lava scorches the ash-laden air
Late afternoon: As the thick smoke hangs heavy
Dinner: As sparks glow in the darkness
Evening: As the dark barely cools the hot air
Night: As the rumbling echoes distantly

Caves
deep, deep underground

Breakfast: As the darkness surrounds them
Morning: As a cold wind presses against them
Lunch: As a deep gloom extends all around
Early afternoon: As all sense of time drifts away
Late afternoon: As all trace of light is lost to shadow
Dinner: As a heavy silence descends
Evening: As the silence grows more profound
Night: As darkness presses in from all sides

Maze
in the labyrinthine corridors

Breakfast: As the darkness surrounds them
Morning: As a cold wind presses against them
Lunch: As a deep gloom extends all around
Early afternoon: As all sense of time drifts away
Late afternoon: As all trace of light is lost to shadow
Dinner: As a heavy silence descends
Evening: As the silence grows more profound
Night: As darkness presses in from all sides

Spring
in the steam of the hot spring

Morning: As sunlight filters through the leaves
Early afternoon: As soft sunlight beams from above
Late afternoon: As the trees give of their shade

Shade
under the wide-stretched canopy

Morning: As the leaves rustle in the wind
Early afternoon: As the light of the sun begins to wane
Late afternoon: As the sun begins its descent
Activity
Available times
Descriptor
Chat
they share a quiet conversation
Jokes
their laughter echoes all around
Cooking
the scents of good food fill the air
Meal
they take time to appreciate the food
March

Morning
Early afternoon
Late afternoon

they continue their steady advance
Journey
they stride on, without any hurry
Battle
the sounds of their battle ring out
Talks
they have an animated discussion
Training
they train with all they've got
Soak
they indulge a well-needed soak
Relaxing
they enjoy a moment of relaxation
Camp
Evening

they prepare camp
they work hard to set up their tent

Resting
Night
they lie down for a well-earned rest
Rewards
[
]
Battles
[
]
| Difficulty | Rewards |
| --- | --- |
| Beginner | 10~ |
| Intermediate | 11~ |
| Boss Battle | 40  |
| Final Boss | Accessory |
Rapport
[
]
| Rapport | Rewards |
| --- | --- |
| 2 | 1,000  |
| 4 | 20  |
| 6 | 1,000  |
| 8 | 20  |
| 10 | 2,000  |
| 12 | 40  |
| 14 | 8  |
| 16 | 8  |
| 18 | 8  |
| 20 | 8  |
List of Heroes Journey events
[
]
List of Memento Events
[
]
Archive of the North
[
]
Archive of the East
[
]
Archive of the South
[
]
Archive of the West
[
]
List of World Mirror events
[
]
| Event Title | Introduction | Success | Failure |
| --- | --- | --- | --- |
| Seashell Search | They're scouring the shore for shells... Will they find what they're after? | They discovered a beautiful seashell! Another memento from the journey! | They found trash but no treasure. At least the seashore is cleaner! |
| Funding Fiasco | They lost their purse of travel funds... Can they recover from this blunder? | They tracked down their lost funds! Their shared relief is palpable. | They looked all over but had no luck. They prepared for a night in the cold. |
| Sowing Seeds | They're tending seeds in the ruins... What kind of flowers will they grow? | The seeds grew into beautiful flowers! They fought back their tears of joy. | They used an unusual mix of seeds. Beauty's in the eye of the beholder... |
| Clever Levers | They found three levers in the maze... Will curiosity get the better of them? | A treasure chest suddenly appeared! They celebrated their amazing luck. | It seems they pulled the wrong lever... The maze's traps sprung into action! |
| Matter of Taste | Gifts given from one to the other... But which should be opened first? | The box had a dazzling cake inside! Who could hold back a smile at that? | The box had an appalling cake inside! Will the others be less horrendous? |
Gallery
[
]
World Mirror
[
]
Meal Preparations
[
]
Bushwhacked
[
]
Flower Songs
[
]
Growing Closer
[
]
On a Full Stomach
[
]
Feline Frolics
[
]
Make Way!
[
]
Hidden Dangers
[
]
Water Rations
[
]
Fishing Up Dinner
[
]
Coastal Collection
[
]
A Happy Birthday
[
]
Sudden Downpour
[
]
Compatibility Reading
[
]
Harvest Festival!
[
]
Wheat from Chaff
[
]
Camping Comforts
[
]
Proper Nutrition
[
]
More Hidden Dangers
[
]
Life and Limb
[
]
Season's First Snow
[
]
Stargazing
[
]
Hearty Soup
[
]
Yuletide Feast
[
]
Heroic Deals
[
]
Shrouded in Shadow
[
]
Trivia
[
]
The music that plays during Memento Events changes depending on who is in the pair.
The waitress who appears in "Proper Nutrition" uses a modified version of Annette: Overachiever's sprite model.
The fortune teller who appears in "Compatibility Reading" uses a modified version of the default Kiran sprite model.
In other languages
[
]
| Language | Name |
| --- | --- |
| Japanese | 英雄たちの二人旅 |
| German | Heldenreise |
| Spanish (Europe) | Viaje heroico |
| Spanish (Latin America) | Viaje heroico |
| French | Voyage en duo |
| Italian | Viaggio eroico |
| Traditional Chinese (Taiwan) | 英雄們的雙人之旅 |
| Portuguese | Jornada dupla |