The Catalog of Heroes is a menu in which every playable Hero released in Fire Emblem Heroes can be viewed.
The Hero Catalog is sorted by Origin (キャラクター (character) in the Japanese version) as the primary sort key, then the date the Hero first appeared in-game as the secondary sort key. Heroes with the same name are not necessarily the same character, and likewise, Heroes with different names can be the same character. The date used is not necessarily the same date the Hero was first made playable. For example,
 Xander: Spring Prince was made playable before
 Xander: Paragon Knight, but Xander: Paragon Knight is listed first in the catalog, since he was made available in the game before Xander: Spring Prince, as an enemy in Chapter 9-5: Princess of Death.
The primary "Origin" sort consists of two values, series and sort. The series value is named so because the numbers appear to correspond to the series the Hero is from, while the sort value sorts Heroes within those series.
Hero Icons
[
]
Owned Heroes: You can replay their Summoning dialogue, view all of their art and attack animations.
The Catalog of Heroes also keeps track of the highest Summoner Support reached for each Hero.
Seen Heroes: Units that you have never summoned, but have met in battle.
Unknown Heroes: Units that you haven't met yet.
Hero Profile
[
]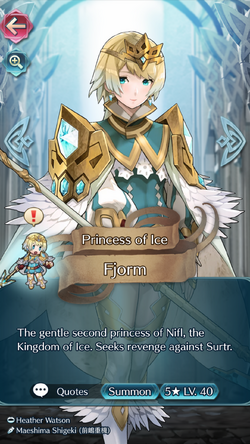 Tapping a previously summoned hero will bring the player to a hero profile page:
Entering the Hero Profile screen will have the hero perform their "turn action" quote.
Tapping the sprite will have the hero perform their "attack" quote.
Double Tapping the sprite will have the hero perform their "damage" quote.
Holding the sprite will have the hero perform their "special trigger" quote.

This is especially useful for healers, who typically can not trigger this quote.

Tapping Summon will bring up the summoning quote along with the summoning animation (rarity however, is not displayed).

This can be useful to Tempest Trial and Quest units, which are not summoned but rather received as a reward.

If available, tapping 5★ LV.40 will have the hero perform their 5★ LV. 40 conversation.

The conversation will be unlocked once a hero has reached level 40 at 5 rarity.

Tapping the magnifying glass icon will allow cycling between full art.
Tapping the arrows will go to the next hero in the catalog, triggering their "turn action" quote.
Full Catalog
[
]